Noriko "Max" Matsuda
Heidi Lucas
"Max" was raised in the Caduceus Enclave (in the Midwest Sector). The Enclave is dedicated to bettering human life through medical advancement.
Max was sent on the discipline mission that stranded the three HYPERNAUTS for making unauthorized calls to her sister. With her parents not speaking to her, Max's sister was the only contact she had with her family.
Legally separated from her family to join the Academy, Max went against the beliefs of her people, the Caduceus Enclave, to be a HYPERNAUT. The Enclave believe in remaining isolated and refuse to have anything to do with alien contact. Even Max's calls to her sister were a violation of their Laws.
RETURN TO MAIN PAGE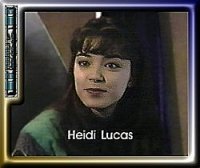 RETURN

The Heidi Lucas Fan Site